You are hereLean Green Machines: 7 Sustainability Stars in Higher Ed (Campus Technology)
Lean Green Machines: 7 Sustainability Stars in Higher Ed (Campus Technology)
---
Across the world of higher education, IT departments are embracing sustainability to save money--and the planet. We profile seven institutions that have shifted their efforts into high gear.
By Matt Villano - 04/01/11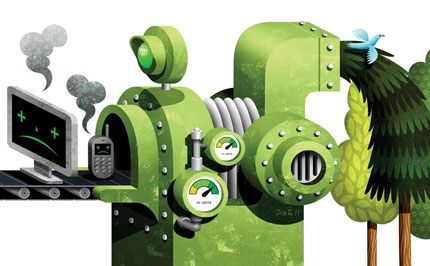 Illustration by Jon Reinfurt
How far we have come. Not long ago, sustainability was little more than a buzzword among people who grow their own vegetables and sing John Lennon songs. Today, it's on the lips of everyone from the president to captains of industry, not only because it makes sense for the planet, but for economic reasons, too. Colleges and universities have been among the leaders nationwide in adopting green initiatives, partly due to their demographics, but also because they are facing their own budget pressures.
Virtualization has become the poster child of many schools' efforts, because it provides significant bang for the buck. However, more and more higher ed IT departments are finding other, innovative ways to cut back on energy consumption and waste--and to reduce costs. With this in mind, we've chosen seven of our favorite green practices in higher education today. The list provides a diverse sampling by geography and project type--but it's by no means comprehensive. If you've got a project we should know about, please fill us in.
1) Making Everything Shipshape
Institution: Shippensburg University (PA)
Green Machine: Campaign teaches energy awareness
At this south-central Pennsylvania institution, green initiatives ranging from print management to server virtualization fall under the catchy slogan, "Environmental StewardSHIP." It's a phrase that leaders from the IT and facilities management departments tout to students and faculty members alike. Since the program launched in 2009, IT leaders have worked with the school newspaper on a series of articles about how students can cut back on energy consumption. Recently, they ran a promotion asking students to bring their computers to the Student Help Desk so IT technicians could adjust the power settings to make the machines consume less energy. Justin Sentz, director of web technical services, says this simple initiative alone resulted in a couple of thousand dollars in energy savings. "The whole idea is to educate students and make them more aware," he says. "The more they hear about us, the more they'll change."
Click here for full article.
--